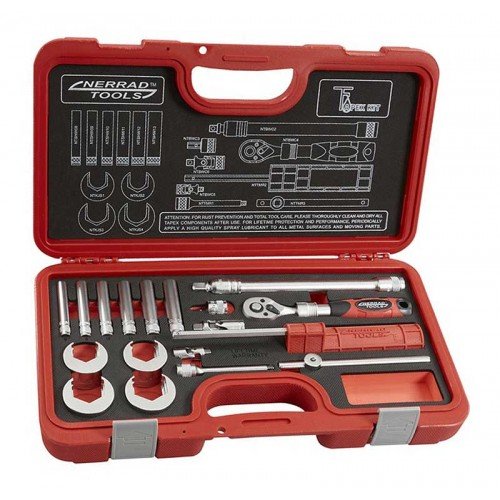 New
Nerrad Tools NTTAPXKIT1 Tapex Kit | 18 Piece Advanced Tap Wrench Technology
Stock:

In Stock

Product Code:

NTTAPXKIT1

SKU:

NTTAPEXKIT1

Part Number:

NTTAPXKIT1

Nerrad
The Nerrad Tools Tapex Wrench Kit consists of 18 pieces, including professional wrenches, perfect for hard to access taps.
TAPEX – TAP INSTALLATION MADE EASY

The Tapex Kit. The most advanced, comprehensive tap wrench kit the industry has seen. A significant leap forward in Tap Wrench Technology with a lifetime warranty.
* 18 Piece professional tap wrench
* Unique 'sockets within a socket' for ½ and ¾ inch back and supply nuts
* Extra long forged sockets for Monobloc mixers
* Adjustable reach ratchet handle
* Adjustable length extension
* Composite 'quick action' handle
* Slide bar, universal joints, fixed extension
* Chrome vanadium construction
* Fits most UK supplied taps and connections