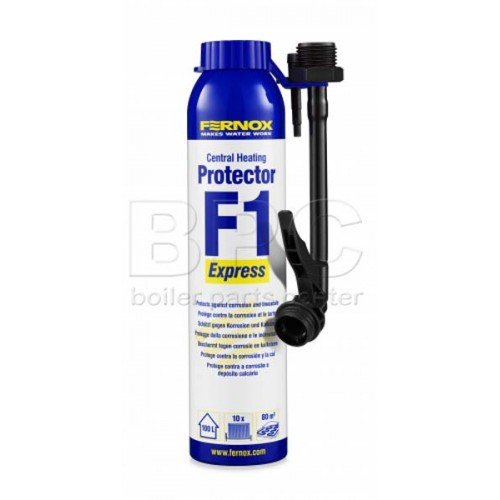 Hot Out Of Stock
Fernox F1 Express Protector - 265Ml
Stock:

Out Of Stock

Product Code:

FEF1X

Part Number:

FEF1X
Fernox
Fernox Central Heating Protector F1 Express:
Fernox F1 Express Central Heating Protector is an aerosol product designed to make dosing a central heating system quick and simple with no mess or inconvenience to the user.
As with all Fernox inhibitors, Protector F1 Express provides long term protection of domestic central heating systems against internal corrosion and limescale formation.
It prevents corrosion of all metals found in these systems i.e. ferrous metals, copper and copper alloys and aluminium. It is suitable for all types of boiler, radiator and pipe work systems. Fernox Protector F1 Express is compatible with all metals and materials commonly used in central heating systems.
For continued long-term protection we recommend Fernox Protector F1 levels are checked regularly (annually). The concentration of the product can be easily measured on site using a Fernox Protector Test Kit or 60 Sec dip test strip.
Key Features Of The Fernox Protector F1 Express:
- Quick and convenient – doses in 30 seconds
- Simple to use with no mess
- Added via a radiator adapter or filling loop supplied
- Protects against corrosion and limescale
- Non-toxic, environmentally friendly formulation
- 100% recyclable can
Maintains system efficiency and extends boiler life
Suitable for use with all metals and materials including aluminium